The stock market enjoyed a banner year in 2019 and Health Forward's diversified investment portfolio produced solid returns as well. In addition, the organization wisely managed its budget with a favorable variance of $2.9 million. Highlights of both the investment and operating budget follow. These results are still preliminary and are contingent on finalized private equity returns, which will be available in late May or early June.
During 2019, investment return was:
All asset classes performed better than their 10-year averages with the exception of real estate. Health Forward continues to perform in the first quartile of endowment and foundations peer group (under $1 billion) over a 3, 5, and 10-year period. The current asset allocation continues to exhibit efficient risk and return characteristics within the comparison group.
The Finance and Investment Committee continued to restructure the investment portfolio to transition to direct hedge fund and direct private equity placements. These investment initiatives were started to reduce fees and increase returns for our alternative asset classes compared to previous fund of fund investing. In addition, the committee added non-correlating investments, such as insurance linked securities to lessen portfolio volatility.

Health Forward's 10-year average return of 8.2 percent exceeds our long-term policy target of 7.6 percent, which is consistent with our stewardship objective of growing net assets by the rate of inflation. Health Forward's average annual return since inception increased to 5.8 percent.
Total Expenses
$27
Million
Grant & Grant support spending
$22.3
Million
Total expenses of $27 million came in under budget by $2.9 million. Grant and grant support spending of $22.3 million was $2.4 million under budget. The board approved to carry forward this positive variance of the grant budget into the 2020 grantmaking budget. In December 2018, the board approved an accounting and budgeting policy change that allows net positive grant-related budget variances to roll forward into the subsequent year. This change has strengthened the strategic planning process for foundation leadership and assures annual financial commitments to the community are maintained.
Operating spending of $4.7 million stayed within Health Forward's spending guidelines of not exceeding 20 percent of the total budget or 1 percent of net assets (17 percent and .74 percent respectively). Of total spending, 83 percent went to programs.
Changes in net assets showed an increase of $78 million over 2018 year-end. Net investment revenue of $105 million was offset by total expenses of $27 million. This positive, 2019 operating result recovered the 2018 net asset decrease of $56 million, and contributed to Health Forward's long-term stewardship objective with regards to growing net assets over time.

Operating Expense Summary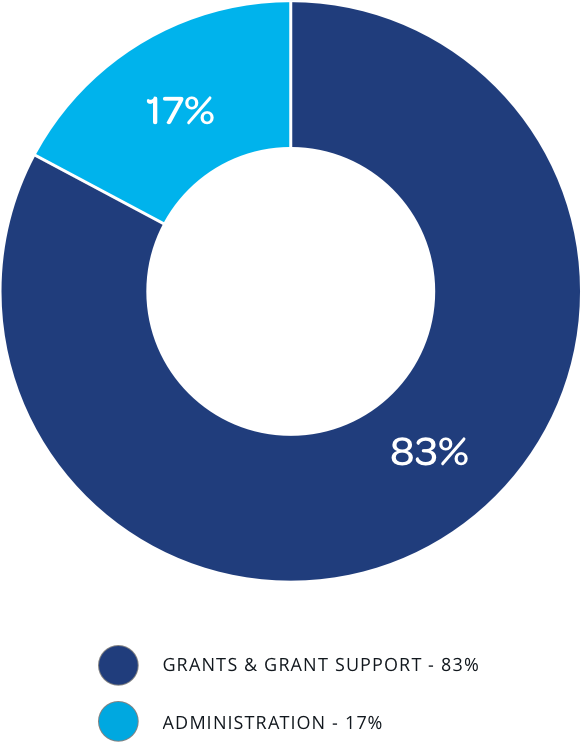 Administration Expenses as a Percent of Net Assets (in millions)
*Excludes all extraordinary legal expenses
**Our goal is for administration expenses to be less than one percent of net assets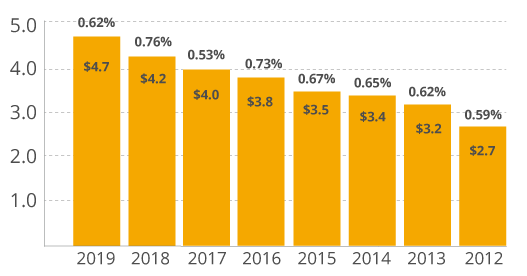 Cumulative Grants (in millions)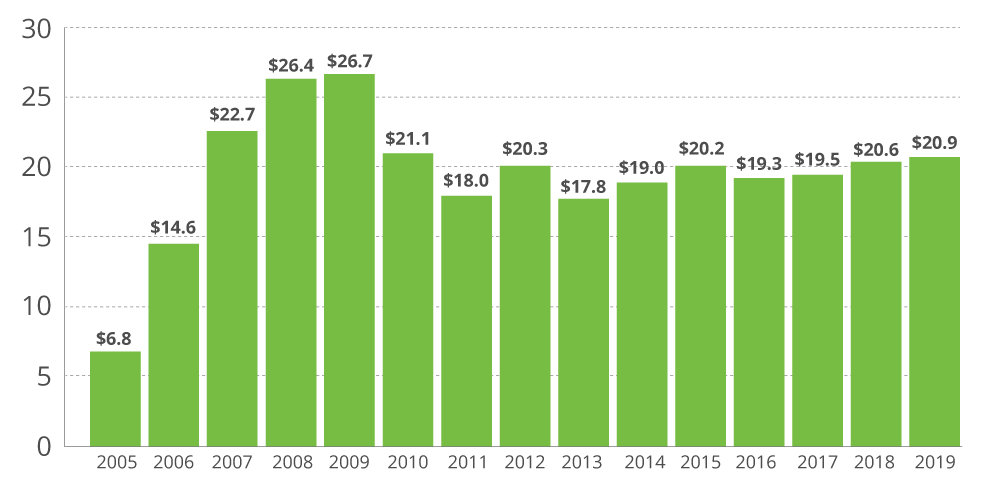 1,3,5, & 10 year Annualized Total Returns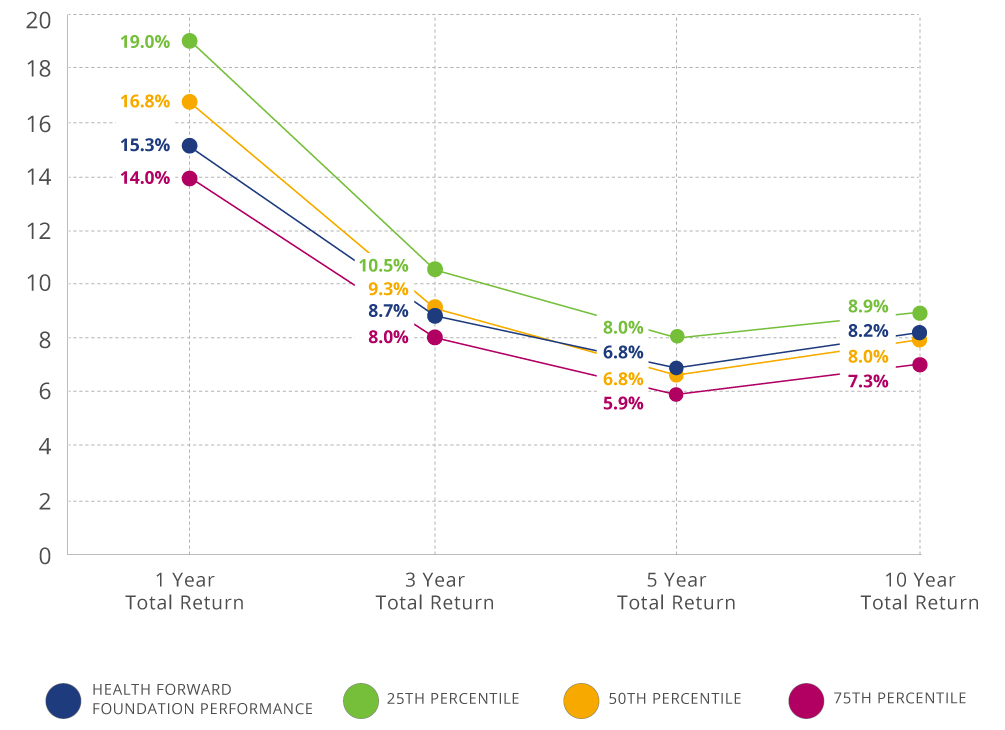 Statement of Financial Position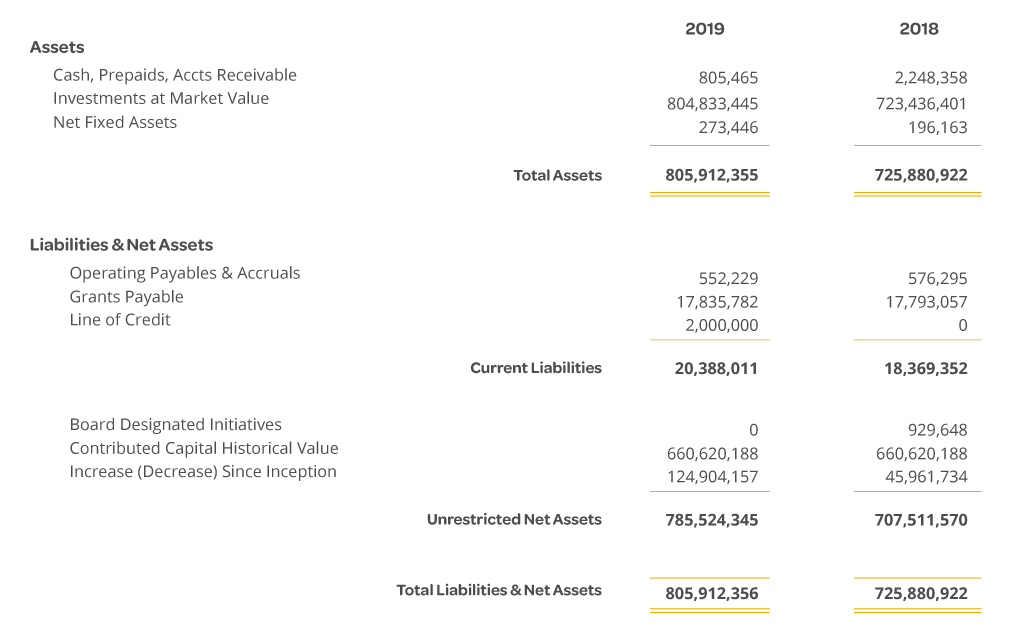 Statement of Change in Net Assets