Policy & Civic Engagement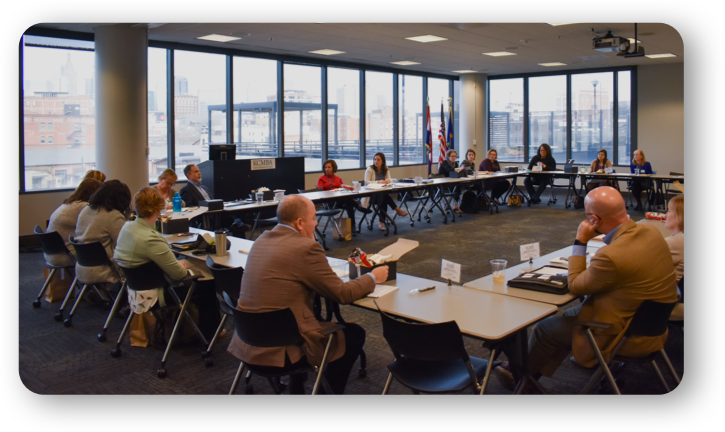 Throughout each of our focus areas, we recognize the importance of engaging in advocacy and supporting civic engagement. We believe that lasting solutions to many of our challenges will be found through local, state, and regional policy changes, as well as systems reform, that benefit those most in need living in our community.
Health advocates across both states felt some relief as efforts to impose work requirements on multiple social welfare programs in Missouri and Kansas fell short in 2019. These policies would have caused consumers to lose health care access due to the difficulty of documenting their compliance with the work requirements.
The Missouri General Assembly discussed suspension of MO HealthNet benefits for incarcerated individuals, instead of a termination of benefits. Language was added to two bills that effectively allows the reinstatement of MO HealthNet benefits once a person is released from a correctional facility or jail.
We saw concerted efforts to address the opioid problem in Missouri as the general assembly passed numerous provisions that dealt with supporting individuals suffering from substance use disorders. Medication-assisted treatment services were broadly accepted and several bills carried provisions that support access to treatment. 
Administrative rule changes to MO HealthNet now allow for reimbursement of eligible services provided to Medicaid recipients in school settings.
Health Forward Foundation's entire service area currently falls within the St. Louis County Prescription Drug Monitoring Program (PDMP), along with 85 percent of the state's population.
Legislation to create a statewide PDMP was introduced and debated in Missouri's 2019 legislative session, but fell short despite strong legislative champions. Similar bills are introduced every year and advocates across the state continue to support expansion of the St. Louis County PDMP to cover the entire state.
The Missouri General Assembly agreed to Gov. Parson's 2020 budget recommendation of $3.6 million for replacement and administration improvements to the aging IT system that powers MO HealthNet.
Health Forward continues to partner with the Missouri Foundation for Health in supporting the Missouri Public Health Transformation project, known as #HealthierMO.
The project has moved into Phase II, which is focused on further developing the capacity of the five core public health professional organizations in Missouri.
Gov. Parson approved legislation providing housing protections for people who are, or are in imminent danger of becoming, a victim of domestic violence, sexual assault, or stalking. The bill helps victims of domestic violence leave unsafe housing without fear of having an eviction on their record.
Health Forward launched a policy and civic engagement request for proposal, which included a priority focused on increasing political will for policies that improve health by investing in safe, affordable, and healthy housing.